Orbital Mux-Tee (Bias Tee Multiplexer)
The Orbital Research "Mux-Tee" (MT-25/40) is a premium bias tee multiplexer that does much more than insert DC current: it multiplexes a 10 MHz reference signal onto the L-band signal. And because it is a passive device that requires no power, it can work in reverse and extract a DC signal and/or demultiplex a 10 MHz reference from your modem.
The Mux-Tee is 6 devices in 1:
Bias tee
10 MHz multiplexer
Both a bias tee and 10 MHz mux
DC extractor
10 MHz demultiplexer
Both a DC extractor and 10 MHz demux
The Mux-Tee filters the incoming IF signal and provides an effective block to any unwanted DC or 10 MHz that may be coming from the modem – delivering exceptional return loss and very low thru loss. In addition, the external DC and 10 MHz inserted signals are filtered to avoid any interference with the wanted IF signal.

  Click to download specs & mechanical PDF

  Click to download Manual PDF
Switching Power Supply
PS1 for North America
PS2 for Global
SIP Solutions
Systems Interface Products Although Combiners and Oscillators are also SIP products, we have narrowed the definition here to just include Bias Tees, Diplexers, Mux-Tees, TTL Switches, Thru Tees, Dual Power Tees, etc.
Here are standard applications for each of these products. Here's how to insert 10 MHz, insert DC, extract 10 MHz, block DC, extract DC, multiplex DC L band and 10 MHz, and perform impedance transforms while you do it.
More SIP Solutions
| | |
| --- | --- |
| Using a Mux-Tee | Using an Orbital MT-40 Mux-Tee to multiplex the L-Band, and 10 MHz reference signals with DC power for a BUC. |
| Using a Bias Tee | Using an Orbital MT-40 Mux-Tee as a Bias Tee to insert DC Power to a BUC |
| Using a Diplexer | Using an Orbital MT-40 Mux-Tee as a Diplexer to insert a 10 MHz reference to a BUC |
| Using Redundant Power Tee | Using an Orbital Redundant Power Tee provides inexpensive power supply redundancy. |
| Using a Thru Tee | Using an Orbital Thru Tee to provide a separate DC power supply to the BUC, while passing the 10 MHz signal through from the modem. |
How to order
For pricing options please call 1-604-419-8585 or contact us.
Each connector type has an impedance of either 50 or 75 Ω.  Orbital uses 1 of 4 distinct boards to achieve the appropriate impedance transform:
V1 – 50Ω to LNB/BUC, 50Ω to Rx/modem
V2 – 75Ω to LNB/BUC, 50Ω to Rx/modem
V3 – 75Ω to LNB/BUC, 75Ω to Rx/modem
V4 – 50Ω to LNB/BUC, 75Ω to Rx/modem
International customers should note that pricing does not include freight, brokerage, local VAT, and customs charges.  Prices from our dealers in your area usually include these amounts.
The Orbital MT25/40 is a Bias Tee (and a Diplexer, and a Mux-Tee…)
Orbital MT25/40 Mux Tees function as Bias Tees (inserting DC power into the combined signal), as Diplexers (inserting 10 MHz into the combined signal), and as Mux-Tees inserting both DC power and 10 MHz reference).  The MT25/40 will also act as a DC block on the combined input port – thus allowing DC to be inserted.  It can also act as a low-loss impedance transform, depending on which connector combinations are chosen.
MT25/40's also work in both directions – in reverse position they can extract L-Band or 10 MHz signals.
The MT25/40 has less than 0.5 dB of insertion loss and filters and conditions its incoming signals.  It is the fundamental component of Orbital's signal routing solutions.
3D Drawing (Solidworks drawing is available on request)
Mechanical Drawing
The Orbital MT25/40 Mux-Tee is built for indoor mounting back-o-rack, but its 'O' ring sealed connectors and corrosion protection due to its Allodyne finish,  also allow for outdoor use.  This product may be used in its standard orientation, (as shown), or in reversed position – to extract, rather than insert 10 MHz signals and DC current.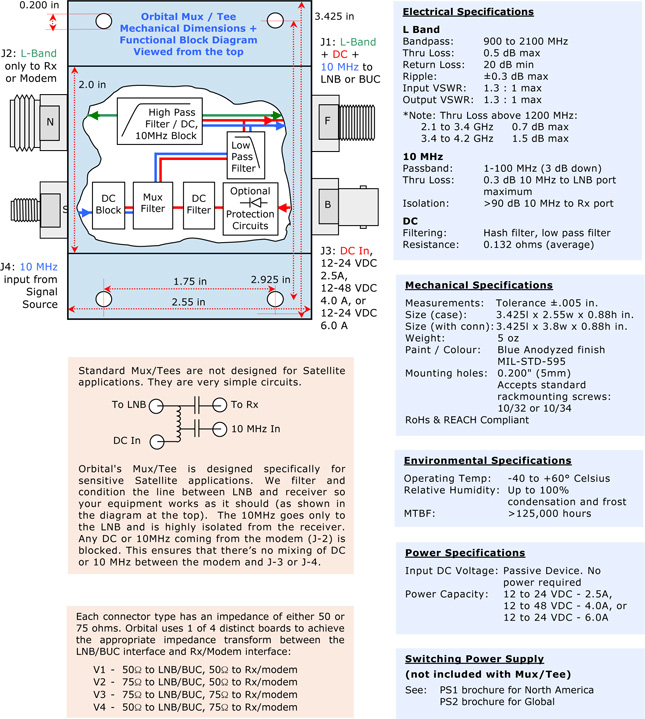 Warranty: 3 years, repair or replace defective product
Specifications
Highpass filtered L band:

rolloff below 900MHz, flat 950 thru 2100MHz
Assures DC block to Rx port and 10 MHz port

Filtered 10MHz
DC: 2.5A (12 to 24V) standard; 4.0A (12 to 48V) high power; 6.0A (12 to 24V) high current
Any combination of 50Ω and 75Ω in/out Impedance transforms, (eg. 75Ω J-1 to 50Ω J-2)
Very high Rx port to 10MHz port isolation, no leakage back to rx
Will not degrade phase noise performance
Exceptionally low insertion loss
Functional
Will operate with LNBs, BDCs, VSATs, BUCs, and Modems
Will operate in S-Band with 0.7 dB insertion loss (max) and in C-Band (3.4 to 4.2 GHz) with 1.0 dB insertion loss (max)
Has flexible sealant on lid-to-case interface; Connectors are O ring sealed. When properly sealing connectors with butyl tape, the Mux-Tee is ready for outdoor, weather resistant operation.
Will not cause loss of lock
Will not impair bit error rate
Structural
Machined from solid aluminum block for strength, stability and endurance
Anodized blue finish for corrosion and scratch protection, and excellent RF shielding/grounding
Labels are laser etched for durability
RoHS & REACH compliant
Options
Option
Connector
Part Number
Values
J1, J2: L-Band: To LNB/BUC & Receiver/Modem
F
N
S
F, 75Ω connector
N, 50Ω connector
SMA, 50Ω connector
J3: DC Supply
B
N
S
T
ft
BNC (preferred) connector
N connector
SMA connector
TNC
Feedthrough
J4: 10MHz
B
S
N
T
BNC
SMA (recommended)
N connector
TNC connector
BNC-to-pigtail adapters and BNC-to-binding post adapters sold separately. See SIP price list for part number and price.Remember that the Orbital MT25/40 is BI-DIRECTIONAL