3D Drawing (Solidworks drawing is available on request)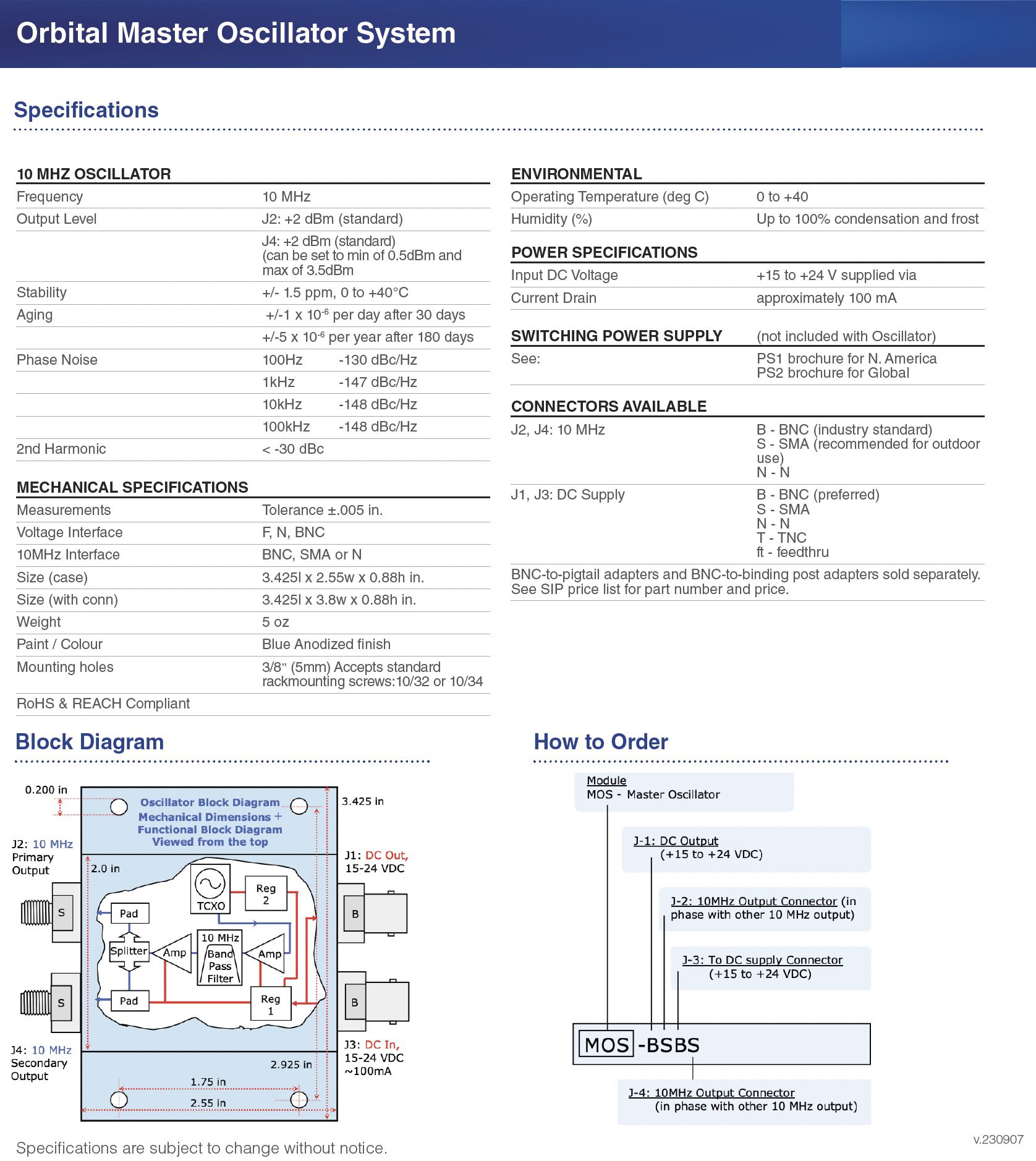 Click to download specs & mechanical PDF
Switching Power Supply
PS1 for North America
PS2 for Global
Mechanical Drawing
Temperature Compensated Crystal Oscillator (TCXO)
Great phase noise: -147 dBc/Hz @ 1kHz
Excellent thermal stability: ±1.5 x 10-8, +10 to +40°C
Sine wave purity, low harmonic content
Good aging: ±1 x 10-6 per day after 30 days
Functional
Operate with LNBs, BDCs, VSATs, BUCs, and Modems
Filters and conditions the DC power to eliminate extraneous signals coming in through the power supply.
Structural
Machined from solid aluminum billet for strength & stability
Anodized finish for corrosion protection and excellent RF shielding/grounding
'Back O Rack' mounting for ease of installation and lead dress (Reduces the mess of cables at the back of the rack)
Connectors are 'O' ring sealed for weather resistant operation
RoHs & REACH Compliant
Benefits
Lower cost, higher quality with a one-box solution
No labor to source, assemble and test a 'kluge'
Custom design variations welcome
Custom labeling requirements welcome
Flexible Solutions
An Orbital MOS 10 MHz TCXO Oscillator seamlessly integrates with other Orbital SIP components such as Mux Tees, 10 MHz Splitters, Combiners, Dividers, etc, minimizing insertion loss, maximizing port to port isolation, matching impedances, and giving a choice of connectors to provide ease of installation.
Made for Professional Use, Made for Satellite
Orbital Systems Interface Products are made specifically for the satellite industry, and are designed for professional and industrial quality systems.  Orbital SIP products are built for rack mounting, and for use indoors or out.
MOS Master Oscillator Connectors
Options
Option Connector
Part Number
Connector
J-2, J-4: 10 MHz
B
S
N
BNC (industry standard)
SMA
N
J-1, J-3: DC Supply
B
T
ft
S
N
BNC (preferred)
TNC
feedthru
SMA
N
BNC-to-pigtail adapters and BNC-to-binding post adapters sold separately. See SIP price list for part number and price.
SIP Solutions
Systems Interface Products Although Combiners and Oscillators are also SIP products, we have narrowed the definition here to just include Bias Tees, Diplexers, Mux Tees, TTL Switches, Thru Tees, Dual Power Tees, etc.
Here are standard applications for each of these products. Here's how to insert 10 MHz, insert DC, extract 10 MHz, block DC, extract DC, multiplex DC L band and 10 MHz, and perform impedance transforms while you do it.
More SIP Solutions
| | |
| --- | --- |
| Using a Mux Tee | Using an Orbital MT-40 Mux Tee to multiplex the L-Band, and 10 MHz reference signals with DC power for a BUC. |
| Using a Bias Tee | Using an Orbital MT-40 Mux Tee as a Bias Tee to insert DC Power to a BUC |
| Using a Diplexer | Using an Orbital MT-40 Mux Tee as a Diplexer to insert a 10 MHz reference to a BUC |
| Using Redundant Power Tee | Using an Orbital Redundant Power Tee provides inexpensive power supply redundancy. |
| Using a Thru Tee | Using an Orbital Thru Tee to provide a separate DC power supply to the BUC, while passing the 10 MHz signal through from the modem. |