SP10 – 10 MHz Splitter
3D Drawing (Solidworks drawing is available on request)

Click to download specs & mechanical PDF
Specifications and Mechanical Drawing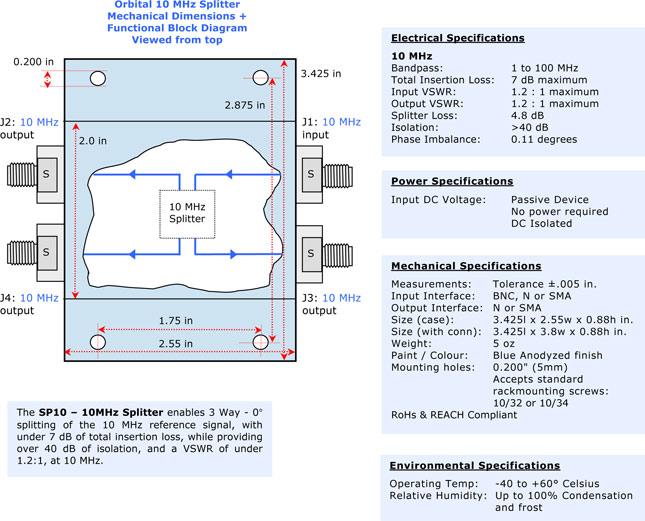 Specifications:
Under 7 dB total insertion loss (includes splitter loss)
Over 40 dB of port to port isolation @10 MHz
VSWR under 1.2:1 @ 10 MHz
Amplitude unbalance 0.01 dB
Phase imbalance less than 0.11 degrees
Functional
Will operate with LNBs, VSATs, BUCs, and Modems
Connectors O ring sealed, suitable for outdoor operation
Structural
Machined from solid aluminum billet for strength, stability and endurance
Anodized blue finish for corrosion and scratch protection, and excellent RF shielding/grounding
Labels are laser etched for durability
RoHS and REACH compliant
Benefits
Lower cost, higher quality with a one-box solution
No labor to source, assemble and test a 'kluge'
Custom design variations welcome
Custom labeling requirements welcome
Flexible Solutions:
An Orbital SP10 – 10 MHz Splitter integrates with other SIP modules such as the MOS or POS Oscillators, and with our Mux Tees.  It can be assembled in a stack, such as a MOS Oscillator, a Mux Tee, and a Splitter, on a plate as in many of our Combiners, or in a rack, perhaps with an Oscillator and an external reference BDC.
Made for Professional Use, Made for Satellite:
Orbital Systems Interface Products are made specifically for the satellite industry, and are designed for professional and industrial quality systems.  Orbital SIP products are built for rack mounting, and for use indoors or out.  They are also perfect at the dish or in the rack for creating a test point for live signals – without degrading ongoing operations.
SIP Solutions
Systems Interface Products Although Combiners and Oscillators are also SIP products, we have narrowed the definition here to just include Bias Tees, Diplexers, Mux Tees, TTL Switches, Thru Tees, Dual Power Tees, etc.
Here are standard applications for each of these products. Here's how to insert 10 MHz, insert DC, extract 10 MHz, block DC, extract DC, multiplex DC L band and 10 MHz, and perform impedance transforms while you do it.
More SIP Solutions
| | |
| --- | --- |
| Using a Mux Tee | Using an Orbital MT-40 Mux Tee to multiplex the L-Band, and 10 MHz reference signals with DC power for a BUC. |
| Using a Bias Tee | Using an Orbital MT-40 Mux Tee as a Bias Tee to insert DC Power to a BUC |
| Using a Diplexer | Using an Orbital MT-40 Mux Tee as a Diplexer to insert a 10 MHz reference to a BUC |
| Using Redundant Power Tee | Using an Orbital Redundant Power Tee provides inexpensive power supply redundancy. |
| Using a Thru Tee | Using an Orbital Thru Tee to provide a separate DC power supply to the BUC, while passing the 10 MHz signal through from the modem. |