Master Oscillator Module – 10 MHz
$925
Master TCXO (temperature compensated) 10 MHz oscillator and MuxTee in one package
3D Drawing (Solidworks drawing is available on request)

Click to download specs & mechanical PDF
Switching Power Supply
PS1 for North America
PS2 for Global
Mechanical Drawing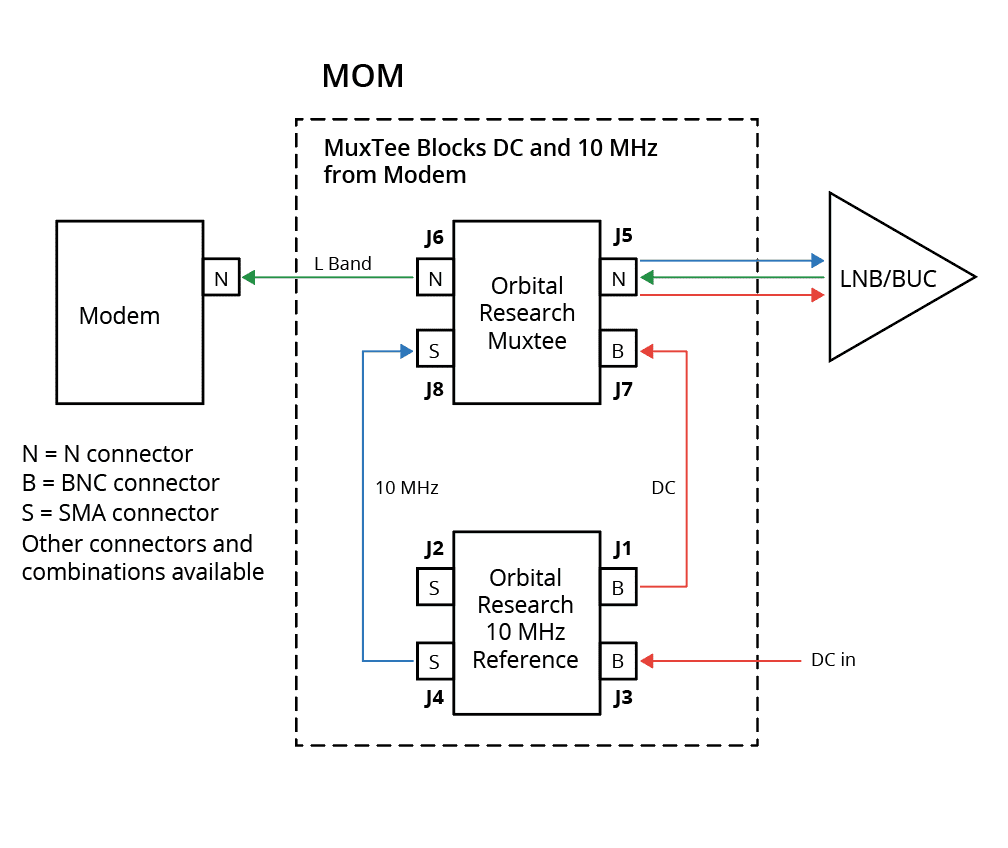 Oscillator
Great phase noise: -147 dBc/Hz @ 1 kHz
Excellent stability, long and short term
Sine wave purity, low harmonic content
MuxTee
Highpass filtered L band, rolloff below 900 MHz, flat 950 thru 2900 MHz
Low thru loss from 10 MHz input to LNB
Lowpass filtered DC, 4.0 Amp maximum
Any in, Any out Impedance transforms (eg. 75 Ω in, 50 Ω out)
DC block to Rx port and 10 MHz port
Very low bandpass ripple
Very low L band through loss
Very high Rx to 10MHz port isolation, no leakage back to rx
Superior Input and Output VSWR
Protects phase noise performance
Exceptionally low insertion loss
Functional
Will operate with LNBs, BDCs, VSATs, BUCs, and Modems
Structural
Machined from solid aluminum billet for strength and stability
Anodized finish for corrosion protection and excellent RF shielding/grounding
Connectors are 'O' ring sealed for weather resistant operation
Jumpers for DC and 10MHz between Oscillator and secondary module provided by Orbital
RoHS & REACH compliant
Oscillator and Power Supply 
Orbital advises that a power supply for the Oscillator must be of good quality otherwise extraneous signals will be transferred to the Oscillator, which can degrade its performance.
Orbital provides 2 DC connectors on the Oscillator so that the input power can power the Oscillator and then is fed through to the other connector on the Oscillator, which powers the secondary device, if necessary. But when using this option, the customer must still adhere to the 15 to 24 VDC restriction of the Oscillator.
Benefits
Lower cost, higher quality with a one-box solution
No labor to source, assemble and test a 'kluge'
Custom design variations welcome
Custom labeling requirements welcome
Flexible Solutions
An Orbital MOM 10 MHz TCXO Oscillator seamlessly integrates your system and provides minimum insertion loss, maximum port to port isolation, professionally matched impedances, and gives a choice of connectors providing ease of installation.
Made for Professional Use, Made for Satellite
Orbital Systems Interface Products are made specifically for the satellite industry, and are designed for professional and industrial quality systems.  Orbital SIP products are built for rack mounting, and for use indoors or out.
MOM Options
Options
Option Connector
Part Number
Values
J5, J6: L-Band: To LNB/BUC & Rx/Modem
F
N
S
75 Ω F
50 Ω N
50 Ω SMA
J2, J4, J8: 10MHz
B
S
N
BNC (industry standard)
SMA (recommended for outdoor use)
N
J1, J3, J7: DC Supply
B
S
ft
T
N
BNC (preferred)
SMA
feedthru
TNC
N
BNC-to-pigtail adapters and BNC-to-binding post adapters for DC sold separately. See SIP price list for part number and price.
SIP Solutions
Systems Interface Products Although Combiners and Oscillators are also SIP products, we have narrowed the definition here to just include Bias Tees, Diplexers, Mux Tees, TTL Switches, Thru Tees, Dual Power Tees, etc.
Here are standard applications for each of these products. Here's how to insert 10 MHz, insert DC, extract 10 MHz, block DC, extract DC, multiplex DC L band and 10 MHz, and perform impedance transforms while you do it.
More SIP Solutions
| | |
| --- | --- |
| Using a Mux Tee | Using an Orbital MT-40 Mux Tee to multiplex the L-Band, and 10 MHz reference signals with DC power for a BUC. |
| Using a Bias Tee | Using an Orbital MT-40 Mux Tee as a Bias Tee to insert DC Power to a BUC |
| Using a Diplexer | Using an Orbital MT-40 Mux Tee as a Diplexer to insert a 10 MHz reference to a BUC |
| Using Redundant Power Tee | Using an Orbital Redundant Power Tee provides inexpensive power supply redundancy. |
| Using a Thru Tee | Using an Orbital Thru Tee to provide a separate DC power supply to the BUC, while passing the 10 MHz signal through from the modem. |
How to order
For pricing options please call 1-604-419-8585 or contact us.
How to order a Master Oscillator module (MOM)